Birding Basics session 6: Field Experience – June 8
June 8 @ 7:45 am

-

10:00 am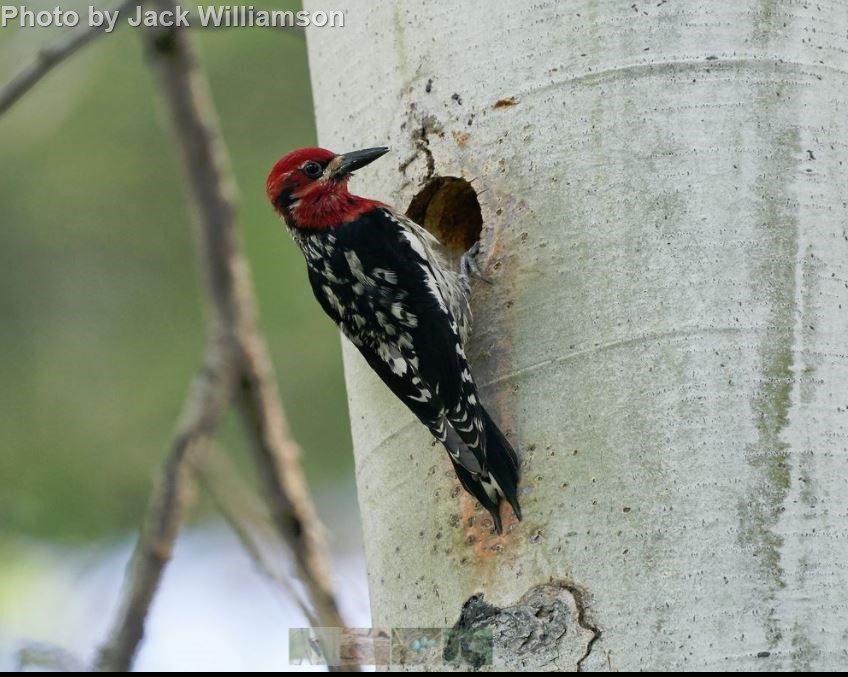 June Birding Basics: Field Experience

Attention novice birders, birders new to Central Oregon, and those who want a refresher course! ECAS is offering a series of free field experiences designed just for you. Each month, January through June, there will be spots for 14 people to learn about a variety of Central Oregon birds, birding locations, skills, and resources.

Details for the June 1st Birding Basics Field Experience: Woodpeckers and Other Birds of the Varied Shevlin Park Habitats

Topic: Woodpeckers and other birds of the varied Shevlin Park Habitats (& bird books display)
Location: Shevlin Park, Bend
Meeting spot: North side parking lot near Aspen Hall in Shevlin Park. Meet at the nearby picnic shelter in the meadow (just beyond the port-a-potties in the parking lot).
Group Leader: Lynda and Skip Paznokas
Date/Time: June 8, Thursday. 8:00 till approximately 10:00 a.m., with an optional extension. Meet at 7:45. If you want a longer look at the bird books, they will be available starting at 7:30 in the picnic shelter.
Focus: In June, the star of the show at Shevlin Park is the Lewis's woodpecker. We will look for these unique birds throughout our walk. In the varied environments of the park, we may see pygmy nuthatch, hummingbird, black-headed grosbeak, red-naped sapsucker, red-breasted sapsucker, violet-green swallow, tree swallow, dipper, robin, lesser goldfinch, Steller's jay, flicker, bald eagle, hairy woodpecker, mountain chickadee, and more. We will also discuss the history of Shevlin Park.
Additional resource: A wide variety of bird books will be on display on such topics as bird behavior, backyard birding, reference, regional field guides, etc. Note: Bird books will be on display starting at 7:30 and will be discussed at the beginning of the morning.
What to expect: We will be walking 1-2 miles on level ground. However, after the main part of the field experience, people have the optional opportunity to extend their time, looking for more birds on the ridge with the guides. Expect a steep climb up and steep climb down from the creek to the ridge with loose rocks.
Bring: Binoculars will enrich your experience. Loaner binoculars will be available. Dress in layers for the unpredictable weather of Central Oregon. Remember a hat, water, and sunscreen. You might want hiking sticks if you're adding the ridge part of the walk. Optional: paper/pen for notes and a camera.
Who should sign up? All ages are welcome. There is a limit of 20 participants. ECAS members and non-members are welcome. Please leave your dog at home. Sign up starting June which will take you to Member Planet. This will get you registered and provide the link to sign the waiver.

---

Descriptions of ECAS Field Experiences with tentative dates:

January: Drake Park, Water Birds of Mirror Pond and Field Optics, led by Gordon Wetzel (postponed will February 5)

February 25: Hatfield Ponds, Exploring Hatfield Ponds and using Merlin Bird ID app, led by Gordon Wetzel

March 9: Old Mill, Bird Identification at the Old Mill District, led by Diane Burgess

April 21: Crooked River Wetlands Complex, Prineville, Identifying Spring Song Birds and Waterfowl and Using Technology to Record the Birds We See, led by Chuck Gates

May 21: Sawyer Park, Identifying Songbirds and Waterfowl by Sight and Sound, led by Aaron Jenkins

June 8: Shevlin Park, Woodpeckers and Other Birds of the Varied Shevlin Park Habitats (and display of bird books), led by Lynda and Skip Paznokas.
Related Events