Location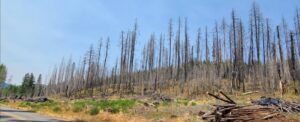 Much of the town of Detroit and the surrounding forest was destroyed by the 2020 wildfires, and as of September, 2022 much of the area is still closed. The current closure extends until July 31, 2023. Check the US Forest Service website for updates and current status after that date.
To reach the area, go north from SR 22 in Detroit 16 mi on FR 46, and park along the road.
Directions
Habitat and Birds
This site is an old salvage-logged burn area, a good spot for woodpeckers, grouse, quail, flycatchers and others. However, road closures because of the recent fires do not allow access to the site to determine the current status. This note will be updated once access is allowed.